All services are offered to Tenants or Users. Every Tenant obtains his own Service Environment which is fully separated from other Tenants. In the framework of his Environment a Tenant at service start-up obtains predefined Projects and basic Users. A Tenant is free to create his own additional Projects and Users. In this sense – a Tenant is usually related to an organization, Users are physical persons within this organization and Projects are related to projects run by the organization. On the one hand, this model provides full security of Tenant data and application, while on the other, gives high flexibility when realizing needs.
Management services
Services can be managed interactively via the so called Cloud Dashboard (OpenStack Horizon)  and the User Portal. Simultaneously services can be configured and managed via an extensive REST API mechanisms (OpenStack API, Finder API, billing API).
The rich API management together with modularity of the service offer on our platform, makes it a perfect set of building blocks for other organizations. These building blocks can be connected together to build many complicated processing and web service environments.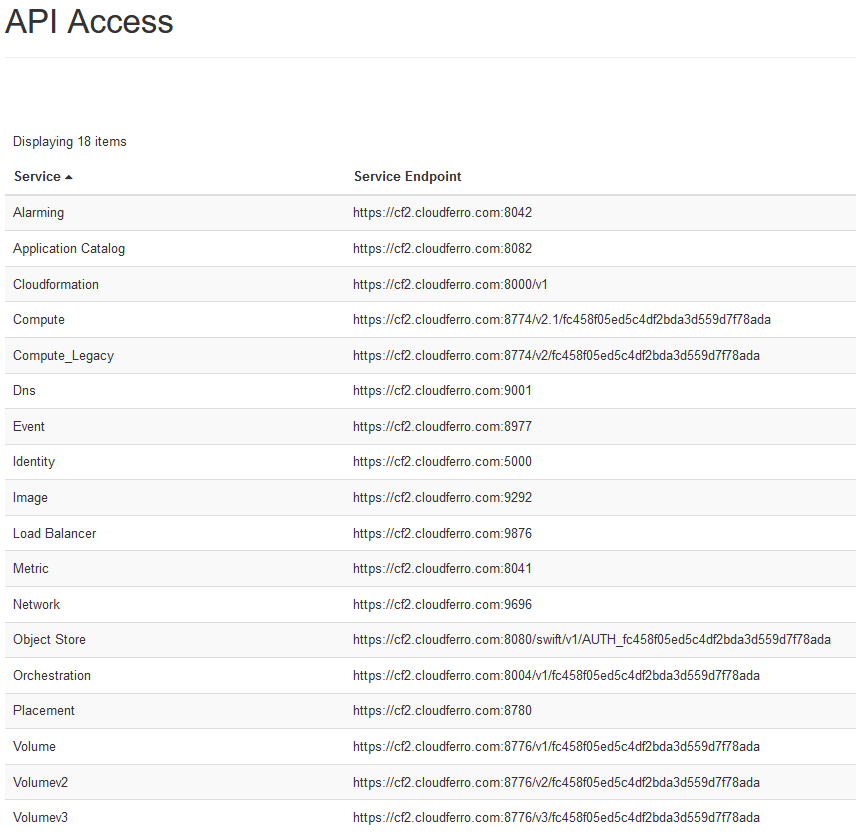 Computing
Computing services comprise: cloud based Virtual Machines (VMs), Dedicated Server VMs, GPU equipped VMs and DS VMs, massive EO data product processing, dedicated baremetal servers, containers, operating system and software images; Default tenant quota is: 40 vCores, 256 GB RAM, 100 TB storage. The size of the resources will be increased with the Users' needs.
Storage
Storage related service comprise: volume storage (divided into magnetic HDD storage, solid state fast SSD storage, HDD storage placed in remote locations (Warsaw, Frankfurt), backup solution (in remote locations), image service (OpenStack Glance), snapshots, object storage and free access to Earth Observation (EO) big data storage with satellite data and additional data services like data disk upload and download.
Data services
Data related services comprise: free CREODIAS Data Offer interface and EO Browser, extended OGC WMS processing of EO Data (as opposed to basic OGC WMS service which is a part of a free CREODIAS Data Offer), and Catalogue Services. 
Virtual Networks
Virtual networking services comprise: virtual networks, virtual routers, Internet connectivity, public IP numbers, Load Balancer as a Service (LBaaS) virtual appliance, fixed bandwidth Internet connectivity.
Security
Security services comprise: authentication and authorization service (OpenStack Keystone), access groups, Firewall as a Service (FWaaS) virtual appliance, VPN as a Service (VPNaaS) appliance, software upgrades.
Other services
Additional services comprise currently: cloud orchestration solution, general reporting and monitoring services, direct data connections to the platform, data marketplace application, elements of application marketplace, engineering support and engineering consulting and project implementation.